Start Your Birth Story at Trios 
Welcoming a baby is one of life's most precious moments. Choosing your care provider and where to have your baby is part of your birth story. The Trios Family Birth Center is here to give you a special, memorable experience.
The Trios Family Birth Center consistently ranks in the top 2 percent of same-size birthing facilities nationwide for customer satisfaction. See below for more information about our birth experience offering.
Private Birth Suites
Luxurious private suites make you feel at home in the Trios Family Birth Center. They're designed for comfort, yet highly advanced medical equipment stays tucked away until needed.
Each suite includes a:
Sofa
Rocking chair
Refrigerator
Built-in TV/DVD system
Private bath with whirlpool tub or hydrotherapy shower.
Personalized Care
The Trios Family Birth Center chooses specialized doctors, midwives, and nurses who are compassionate and dedicated to providing excellent service. Their medical skill and passion—along with the Center's thorough, inclusive communication practices—add up to exceptional care.
---
Family Centered Births
Births are a family affair. As long as it's okay with the mother and her doctor, family members are welcome to be present, visit, and take pictures or video anytime during or after delivery. There are also two family areas outside the birth suites for adults and children. Both have TVs and plenty of seating.
---
Stay Comfortable and Safe at Trios
The Trios Family Birth Center keeps you and your baby comfortable and safe with:
State-of-the-art security
Á la carte meal service
Special Care Nursery (advanced care for babies born up to eight weeks early, managed by our dedicated neonatology team).
Help before and after your birth
Baby care questions come up before and after birth. That's why the Trios Family Birth Center offers:
Pre- and post-delivery classes, including breastfeeding support, and infant and child CPR
A free post-partum visit with a Trios lactation specialist
Education on the Period of PURPLE Crying
An open door policy that welcomes your questions after you go home.
---
Pre-Admission Registration
If you are planning to deliver your baby at the Trios Family Birth Center, please visit this page.
---
Coming Soon - New Trios Family Birth Center!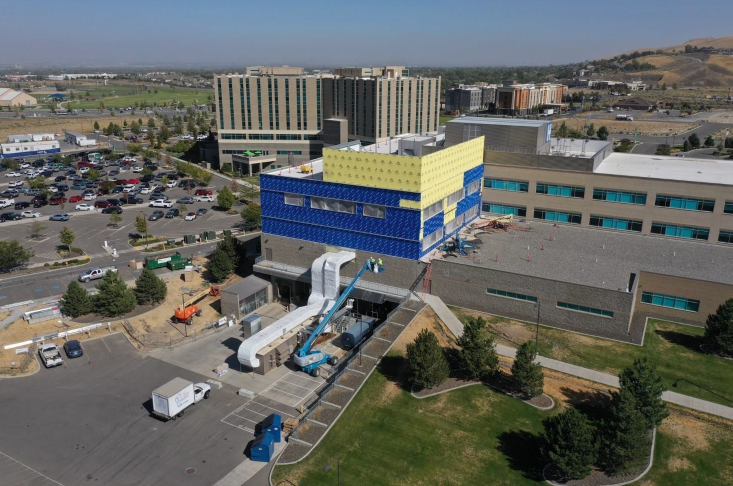 Our new Trios Family Birth Center and Special Care Nurse are opening in Spring 2022 at the Trios Southridge campus - bringing all of our hospital services under one roof! Learn more and keep up-to-date on the construction progress here.