Lourdes Health & Trios Health Donate $3,282 to Grace Clinic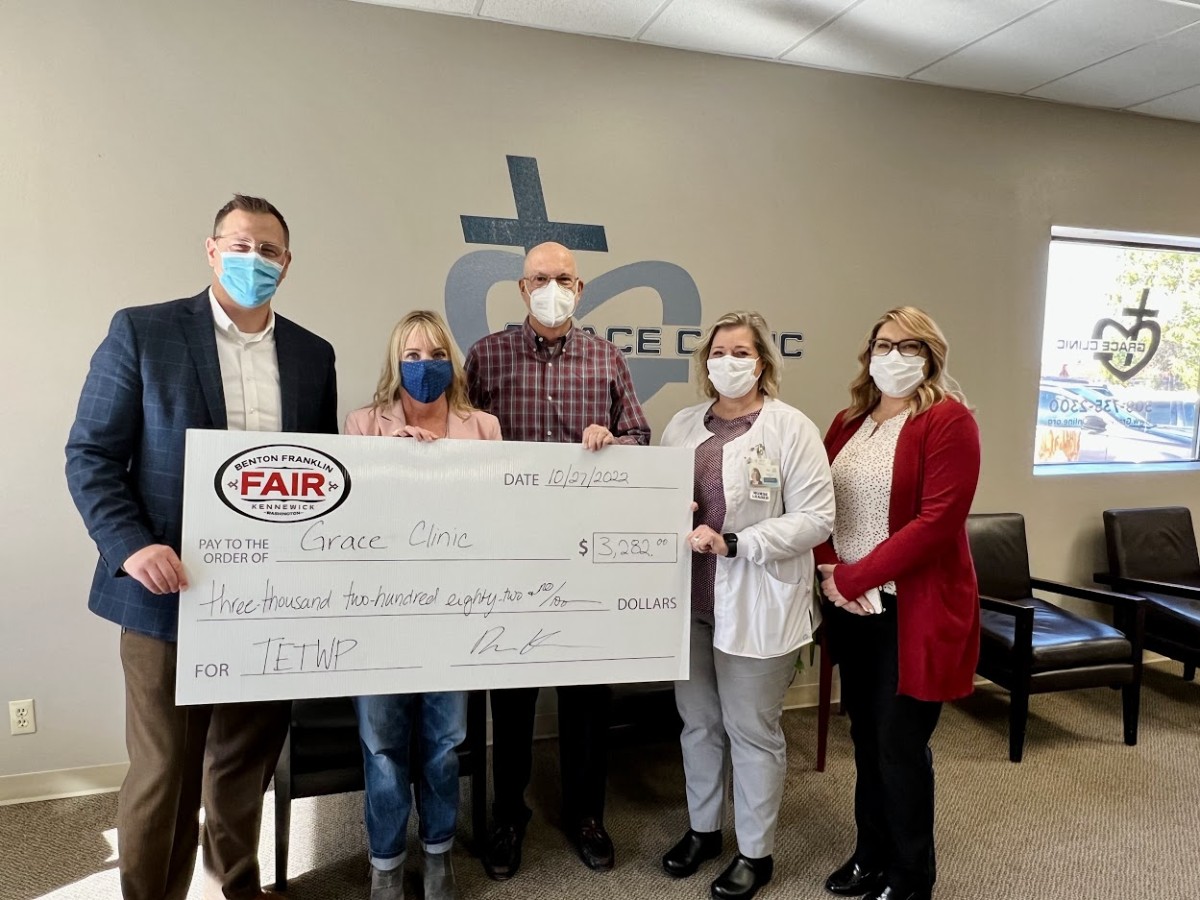 Lourdes Health and Trios Health are pleased to announce a $3,282 donation to the Grace Clinic to support their breast cancer programs.
The donation comes from Lourdes' and Trios' joint sponsorship of the Tough Enough to Wear Pink Night at the 2022 Benton-Franklin County Fair and Rodeo. The hospitals choose to give to the Grace Clinic as a community partner to help serve those in need in the Tri-Cities community.
"The Grace Clinic is an incredible community partner, and we are proud to support them with this donation and in other ways as each of our organizations strive to meet the needs of our community and provide healthcare to underserved populations," said Jerry Dooley, Interim Market Chief Executive Officer at Lourdes Health and Trios Health. "In their 20 years, they have served 100,000 patients through their numerous programs, and we're proud to be able to help be a small part of that."
The donation was presented to Grace Clinic Volunteer CEO Mark Brault by Benton-Franklin County Fair Executive Director Lori Lancaster, Lourdes Chief Nursing Officer Kena Chase, Trios Chief Operating Officer Anthony Rodebush, and Lourdes Chief Financial Officer Erika Wier.
Tough Enough to Wear Pink is a nationally-recognized campaign and framework for rodeos and western events to promote breast cancer awareness and fundraising to benefit their local communities. Proceeds raised from the program are donated to nonprofit organizations to provide support for breast cancer screenings, support groups, or programs.
"At Lourdes and Trios our mission is Making Communities Healthier, and we feel that Grace Clinic's mission closely aligns with ours as they work to provide free healthcare to uninsured people in our community, including breast cancer screenings," Dooley said. "Our hope is this donation will support their mission and programs and provide access to screenings and care."
According to the Centers for Disease Control and Prevention, breast cancer is the second most common cancer among American women and 1 in 8 women will develop breast cancer in her lifetime.
"Early detection is a key to successful breast cancer treatment. Women should begin annual mammogram screenings at age 40, or sooner if their doctor recommends it or they have a family history of breast cancer," Dooley said.
Read All Posts