Trios Health & Lourdes Health Hosting $10 Sports Physical Clinic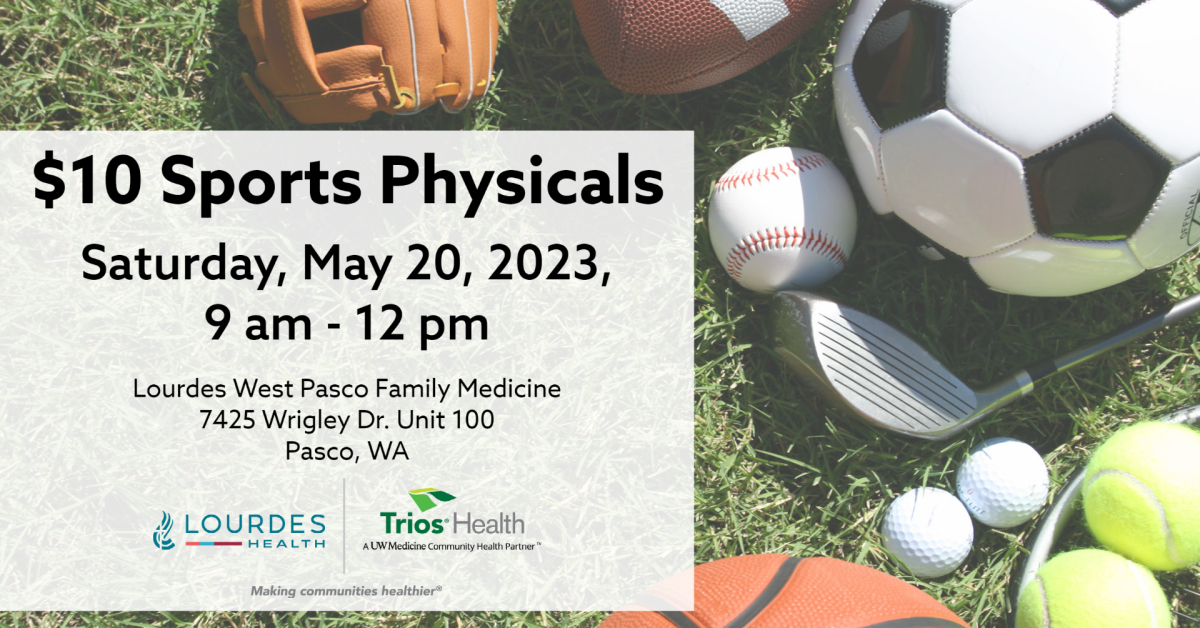 Trios and Lourdes Health are pleased to be partnering to host a sports physical clinic on Saturday, May 20, 2023, for all local middle and high school students.
The sports physical clinic will be held at Lourdes West Pasco Family Medicine Clinic, located at 7425 Wrigley Drive in Pasco from 9 a.m. to 12 p.m. Students can receive their physical for $10, without the need for insurance. All fees collected will be donated back to the students' respective schools.
"We are grateful to partner with Lourdes Health in hosting this event. Trios Health started this clinic more than 21 years ago and has been able to give back thousands of dollars to our local schools for the purchase of athletic safety equipment," said Emilia Keener, Market Senior Director of Physician Services. "The sports physical clinic offers a great opportunity for our community to get to know our providers at Trios and Lourdes and have this service be accessible and affordable for our community."
The physicals will be completed by Lourdes Physician Clinics and Trios Medical Group providers, as well as Trios Health resident physicians. They will be donating their time to provide this service. Volunteers from Lourdes and Trios will also be helping out at various stations prior to the physical exam with a provider, including registration, a height and weight check, blood pressure station, and eye exam check.
"This is a great community event with the dual purpose of being able to provide local students with a low-cost option for their required sports physical and give back to our local schools in a meaningful way," said Jeff Bourgeois, Interim Market CEO at Lourdes Health and Trios Health. "Lourdes Health and Trios Health are excited to be co-hosting this event and serving our community."
Students who wear glasses or contacts should bring them to their visit for the eye exam portion.
Cash or check will be accepted, and checks should be written out to Lourdes Health. Sports physical forms for the Kennewick, Pasco, and Richland school districts are available at TriosHealth.org/Sports-Physicals and YourLourdes.com/Sports-Physicals and should be filled out prior to the event and ready to go when registering. A limited amount of forms will be available at the time of the event.
Read All Posts