Nine Tips to Prevent & Manage Chronic Wounds During Older Americans Month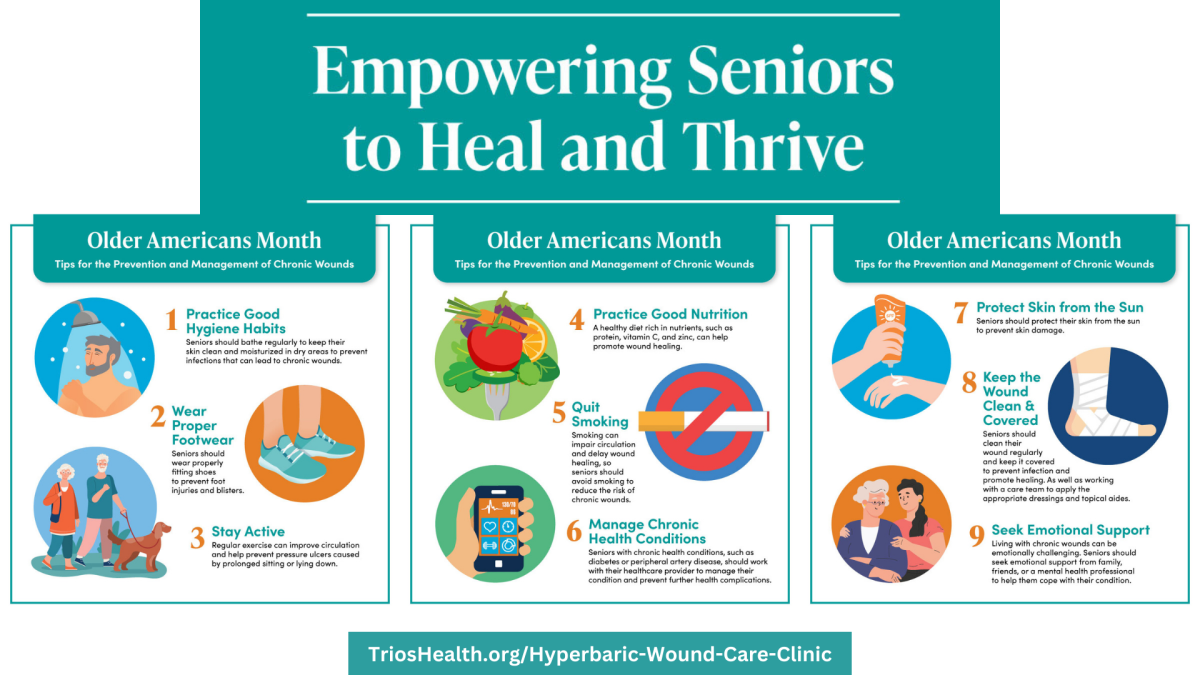 It is no secret that as we age, our bodies undergo changes that can increase the risk of developing health related issues. One of these health concerns is the susceptibility of forming a chronic wound. Chronic wounds are wounds that fail to heal within three months or more. They can be painful, debilitating, and can significantly impact the quality of life of the person suffering with a non healing wound. Which is why this May, Trios Hyperbaric and Wound Care Clinic is acknowledging Older Americans Awareness month, and offering nine tips to prevent and manage chronic wounds.
Senior Americans are at an increased risk of a hard to heal wound forming. In fact, seniors make up 85% of all chronic wound cases, and it is estimated that 8.2 million seniors above the age of 65 will develop a chronic wound. Even though wounds can be the result of many different things as the skin becomes thinner with age, there are several factors that can increase the risk of developing chronic wounds in seniors, including diabetes, heart disease, limited mobility, dietary habits, and even medications.
The positive side is that chronic wounds are not developed overnight, and with the appropriate prevention and management techniques, they do not have to become life threatening. The prevention and management of chronic wounds in seniors involve a comprehensive approach that includes proper wound care, healthy lifestyle habits, and management of underlying health conditions. Here are some tips for preventing and managing chronic wounds in seniors:
Practice Good Hygiene Habits: Seniors should bathe regularly to keep their skin clean and moisturized in dry areas to prevent infections that can lead to chronic wounds.

Wear proper footwear: Seniors should wear properly fitting shoes to prevent foot injuries and blisters.

Stay active: Regular exercise can improve circulation and help prevent pressure ulcers caused by prolonged sitting or lying down.

Practice good nutrition: A healthy diet rich in nutrients, such as protein, vitamin C, and zinc, can help promote wound healing.

Quit smoking: Smoking can impair circulation and delay wound healing, so seniors should avoid smoking to reduce the risk of chronic wounds.

Manage chronic health conditions: Seniors with chronic health conditions, such as diabetes or peripheral artery disease, should work with their healthcare provider to manage their condition and prevent further health complications. .

Protect skin from the sun: Seniors should protect their skin from the sun to prevent skin damage.

Keep the wound clean and covered: Seniors should clean their wound regularly and keep it covered to prevent infection and promote healing. As well as working with a care team to apply the appropriate dressings and topical aides.

Seek emotional support: Living with chronic wounds can be emotionally challenging. Seniors should seek emotional support from family, friends, or a mental health professional to help them cope with their condition.
Chronic wounds can significantly impact a senior's quality of life, and impact the majority of the American elderly, but with proper prevention and management, they can be avoided and treated when needed. Seniors can reduce their risk of developing chronic wounds by following a healthy lifestyle, managing chronic health conditions, and seeking timely medical care for wounds that do not heal. By following these tips, seniors can maintain their independence, mobility, and quality of life. If you or someone you love has a non-healing wound, give us a call at 509.221.6300 or visit TriosHealth.org/Hyperbaric-Wound-Care-Clinic for more information and assistance.
Read All Posts