Trios Health Appoints Three New Chief Residents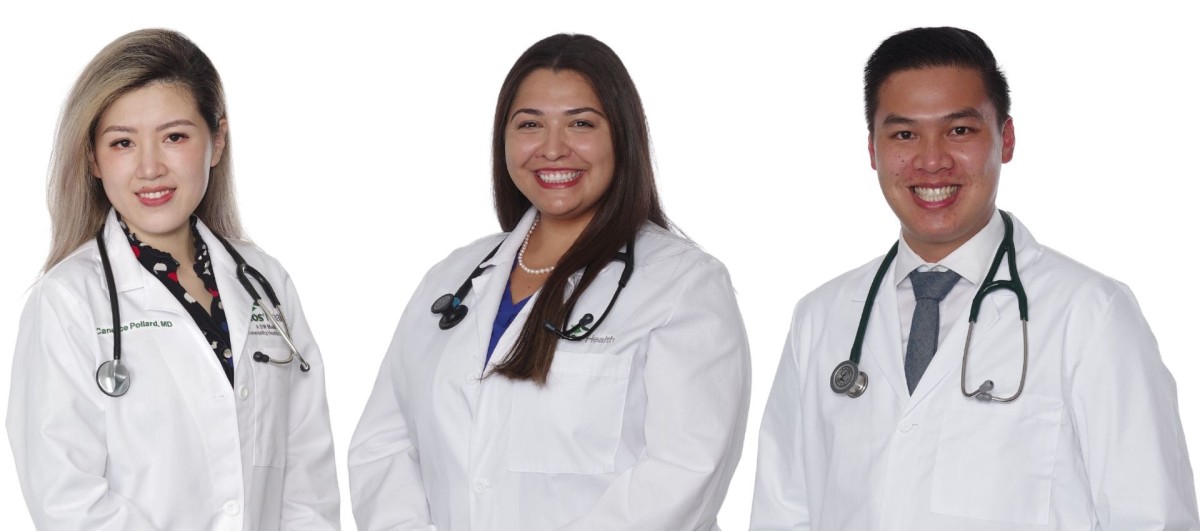 Trios Health has appointed three of its residents to serve as chief residents for the hospital system's family and internal medicine residency programs.
Dr. Candice Pollard has been selected as chief resident for the Family Medicine Residency Program, and Dr. Lexi Capers and Dr. Raymond Lam have been chosen as co-chiefs for the Internal Medicine Residency Program.
The physicians were selected by their fellow residents and will serve as chiefs for one year, from July 1, 2023 to June 30, 2024. Chief residents provide leadership within a medical residency program by teaching, facilitating conferences, supervising, scheduling, implementing policy, mediating and serving as role models for other residents. The residents are supervised by attending faculty and their program directors.

Dr. Pollard earned her undergraduate degree and completed medical school at the University of Washington. She enjoys full spectrum family medicine practice and is delighted to be at Trios Health working with others to bring excellent care to our community. When she's not practicing medicine, she loves traveling the world with her family and friends.
"I look forward to having Dr. Pollard as the family medicine chief resident," said Dr. Katina Rue, DO, FAAFP, FACOFP Family Medicine Residency Program Director. "Dr. Pollard is a compassionate, well-organized, insightful leader who is known for her strong bond with her patients and fellow residents."
Dr. Capers graduated with her B.S. in Molecular Biology with Minors in Chemistry and Sociology from Eastern Oregon University. She earned her Doctor of Osteopathic Medicine degree at Pacific Northwest University of Health Sciences (PNWU) in Yakima, WA. Dr. Capers plans on being a hospitalist after residency concludes and stay in the Tri-Cities region. When she's not in the hospital, Dr. Capers enjoys fishing with her husband and their rescue dog, gardening, reading fiction, and visiting family. Dr. Capers' is excited to continue to offer high quality evidence-based patient care and making our communities healthier!
Dr. Lam completed his undergraduate studies at UCSD and earned his Masters at Rutgers University. He earned his Doctor of Medicine Degree from West Virginia School of Osteopathic Medicine. Dr. Lam is looking forward to being part of Trios Health's growth. With experience in different parts of the United States, Dr. Lam offer a diverse perspective. Gastroenterology has captured his interest, and he is eager to expand his expertise. When he is not in the hospital, you will find him hiking, playing, being involved with his church or traveling with his wife. Dr. Lam looks forward to collaborating and providing top-notch patient care together with everyone at Trios Health.
"I am pleased to have Dr. Capers and Dr. Lam serve as the Internal Medicine Residency Co-Chief Residents next year. They are organized, committed to the position and will be excellent role models and leaders," said Dr. Vamsi Kanneganti, Internal Medicine Residency Program Director.

Individuals looking to establish care with a primary care provider can schedule an appointment with Trios Health resident physicians, including Dr. Pollard, Dr. Capers and Dr. Lam. To reach the Trios Health Family Medicine Residency Clinic, call (509) 221-5520. For the Internal Medicine Residency Clinic, call (509) 221-5222.
Read All Posts