Trios Health Opens Trios Spine & Interventional Pain Clinic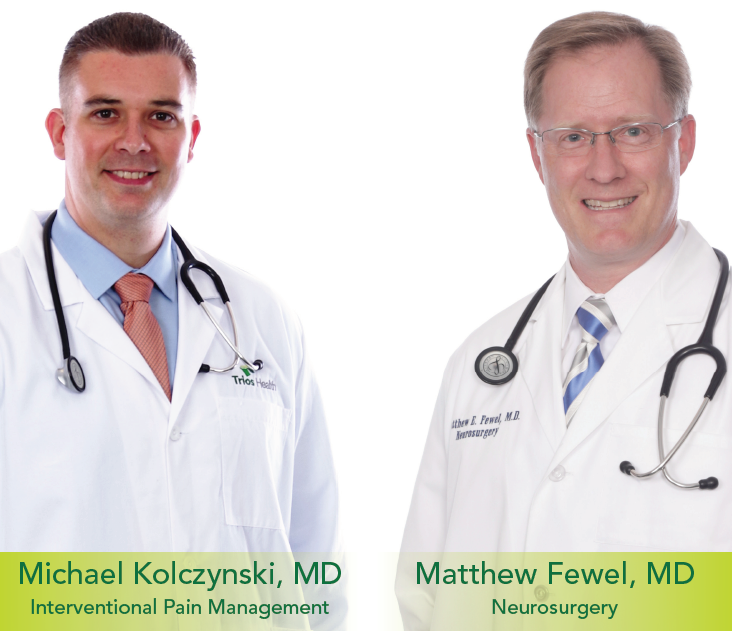 Trios Health is pleased to announce the opening of a new clinic office, the Trios Spine and Interventional Pain Clinic, located in the current Trios Care Center at Southridge at 3730 Plaza Way.
The Trios Spine and Interventional Pain Clinic is opening on Feb. 22 on the sixth floor of the Care Center in suite 6100 (formerly Pinnacle Pain). Doctors at the clinic are neurosurgeon Matthew Fewel, MD, and interventional pain management specialist Michael Kolczynski, MD.
"Bringing these doctors together in a dedicated clinic space is an exciting opportunity that will allow their patients to access these services in one place and better serve their needs," said Lorie Orozco, director of Trios Medical Group operations.
Dr. Fewel joined Trios in 2019 and serves patients for a variety of conditions and treatments, including cervical, thoracic, and lumbar spine surgery; minimally invasive spine surgery options; degenerative spine disorders; herniated discs; spinal stenosis; scoliosis; spine trauma; spine infections; revision spine surgery; spine instability; spine tumors; spine fusions; artificial disc replacements; and non-operative management of spine conditions. He previously practiced on the fifth floor of the care center building.
Dr. Kolczynski joined Trios in 2020 and treats patients for several conditions, including back, neck, and shoulder pain; carpal tunnel; Complex Regional Pain Syndrome (CRPS); diabetic neuropathic pain; fibromyalgia; headaches; herniated discs; hip and knee pain; pelvic and abdominal pain; sacroiliac pain; sciatica; shingles (postherpetic neuralgia); spinal stenosis; and work and sports and injuries. He believes in a multidisciplinary approach and minimally invasive interventional techniques to treating pain and its associated conditions. He previously served patients on the third and fourth floors of the care center. The third floor space – a dedicated pain clinic – is also moving to the new Spine and Interventional Pain Clinic on the sixth floor.
"Dr. Fewel and Dr. Kolczynski together in one clinic space, with their combined expertise and medical experience, will greatly benefit our patients and allow us to work more cohesively for patients' health and outcomes," said Cristal Trevino, clinic manager. "We are excited for this opportunity and grateful to be able to combine both service lines to better serve our community."
Read All Posts