What You Should Know About Peripheral Artery Disease and Chronic Wounds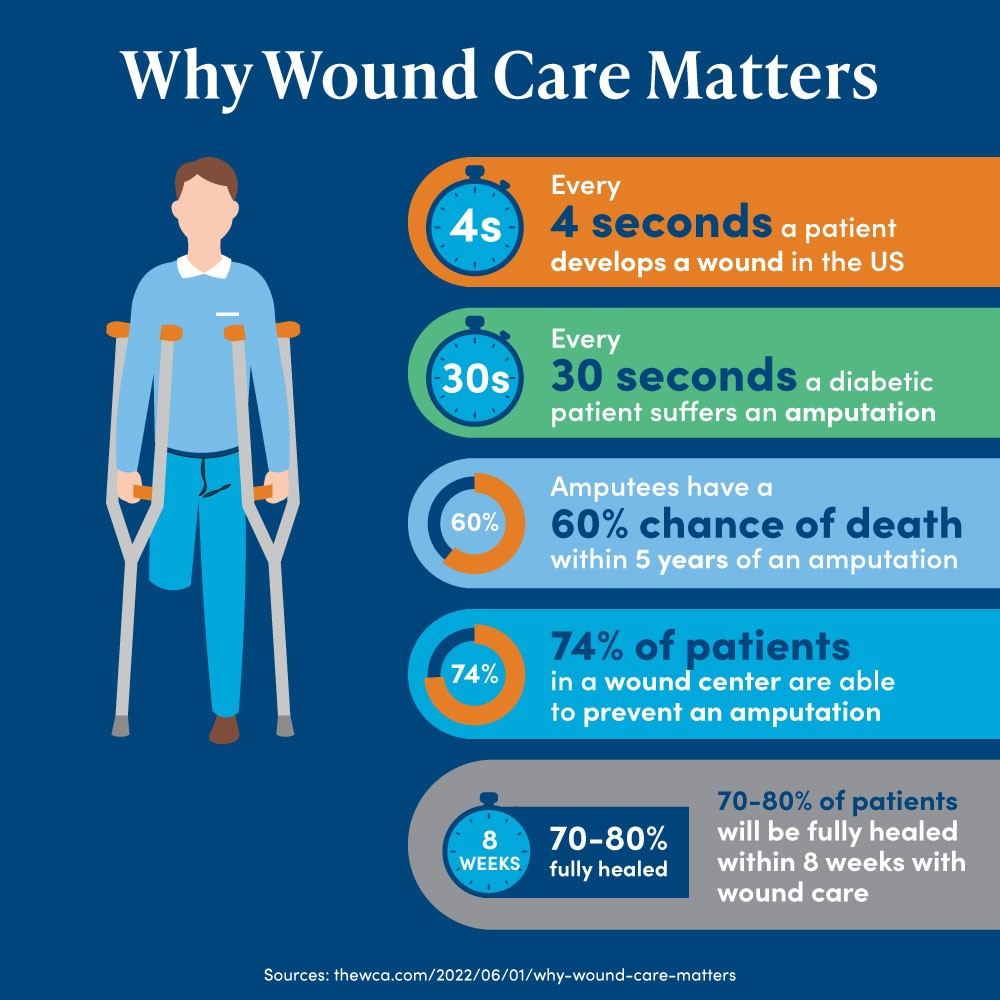 Peripheral artery disease (PAD) is a common circulatory problem stemming from fatty build-up, or atherosclerosis, in the arteries. Also known as peripheral vascular disease (PVD), PAD causes blood vessels in the limbs to narrow, significantly reducing blood flow and sometimes causing the development of a wound that is slow to heal. If left untreated, these wounds can become infected and put patients at risk of sepsis, gangrene, or amputation.
PAD affects over 8.5 million U.S. adults and over 113 million people worldwide. Risk factors include aging, diabetes, obesity, and smoking. Symptoms include pain, cramping, discoloration, and swelling of the legs or feet. If you've been diagnosed with PAD and have a chronic wound that hasn't healed within 30 days, it's very important to have it evaluated and treated in order to save the limb and control the disease.
Types of Chronic Wounds in Patients with PAD/PVD:
Here are the three of the most common non-healing wounds for patients with PAD/PVD:
Arterial ulcers

: Also referred to as ischemic ulcers, these are caused by damaged or blocked arteries which are unable to get nutrient-rich blood and oxygen to the lower extremities. This causes an ulcer or a break in the skin. Arterial ulcers are typically located on the foot or ankle.

Diabetic neuropathic ulcers

: Many patients with peripheral artery disease also suffer from diabetes. Approximately

25 percent

of individuals with diabetes will experience a non-healing open wound or diabetic ulcer caused by pressure or trauma on the lower limbs or feet. Because diabetic neuropathy causes a loss of sensation in the limbs, many patients don't know they have an ulcer until it becomes infected.

Venous ulcers

: When patients have poor blood circulation in the legs, the blood can back up and "pool" in the veins, causing an ulcer. This can cause a painful open wound and edema, or swelling, on the ankles or lower leg.
Tips to Manage PAD:
With lifestyle changes and a commitment to treatment, PAD can be managed. Here are eight tips to help:
Lose weight (if overweight) or maintain your current healthy weight

Maintain a structured exercise program

Eat a well-balanced, heart-healthy diet

Control diabetes and high blood pressure

Stop smoking

Limit alcohol intake

Avoid standing for long periods of time

Wear compression wraps/stockings
At Trios Hyperbaric & Wound Care Clinic, we're using advanced wound care modalities and hyperbaric oxygen therapy to treat non-healing wounds caused by peripheral artery disease, including venous and arterial ulcers. Chronic wounds can be diagnosed, effectively managed and healed, oftentimes within eight weeks. If you or someone you love has a non-healing wound, give us a call at 509.221.6300 for more information and assistance.
Read All Posts